London Scala
London, UK

Scala

01.03.2004

London, UK

Scala

02.03.2004

Alle Fotos von London 2 - (c) Pete Cole
Lest
hier
eine Kritik vom ersten Scala Gig und
weiter unten
eine vom zweiten Gig
Mein Bericht folgt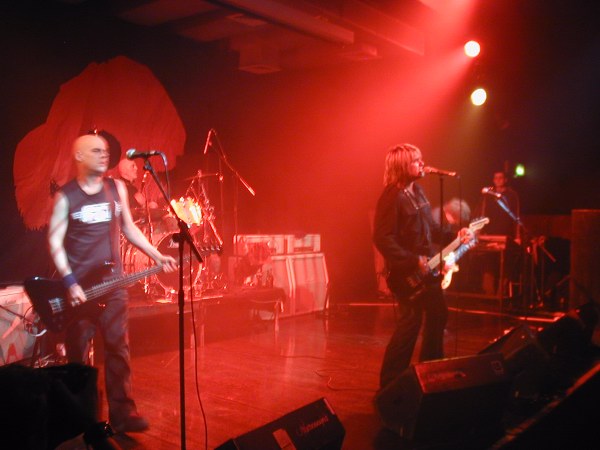 As the world turns and people continue to flit from one fad to the next, it does us good to remember that there is the occasional sub-culture where musicians don't cultivate a "controversial" image for the sake of record sales, don't shag anything that moves in order to get publicity and, shock horror, do make music to a steady flow of loyal fans, thus enjoying careers that last 25 years instead of 25 months.
Mike Peters is one of these righteous troubadours, having conquered the world in the '80s as frontman of The Alarm (how many British bands can say they played to tens of thousands in the US?) and steadily maintained and grown his fanbase during the '90s as a solo artist.
Now, in 2004, he's using The Alarm name again and has just had arguably his most impressive feat of all: entering the UK Top 30, 16 years after the last time. He had to pretend it wasn't The Alarm to do it, mind. But that's another story...
Tonight's first of two sold-out shows at London's La Scala was impressive in every way imaginable. Mike Peters and his mightily able band (former Gene Loves Jezebel/Cult guitarist James Stevenson; former Mission/Sisters Of Mercy/Cult bassist Craig Adams and former Stiff Little Fingers drummer Steve Grantley) may be old-hands at performing live but they showed that they've still got a few tricks to teach the young puppies.
As with the old (and some would say "real") incarnation of The Alarm, they rock live. Classics like Rain In The Summertime and Rescue Me, once cool but fairly middle-of-the-road numbers on record, were given a new lease of life as the guitars came out in full force and Peters bounded around the stage like a man half his age.
Meanwhile, early '80s slices of Clash-influenced genius like 68 Guns and Where Were You Hiding When The Storm Broke? (the latter surely the blueprint for every Levellers song ever written) were delivered with a new found energy and their anthemic quality enhanced even further.
In fact, I've rarely witnessed a gig of so many crowd-pleasers in a venue of this size. Alarm fans are nothing if not passionate and every lyric (and I mean, every lyric) was sung not by Peters alone, but with several hundred backing vocalists too. This included numbers to be found on the forthcoming In The Poppyfields album - Close and the Spirit Of '76-alike Drunk And Disorderly - as well as the single 45 RPM, which is the best slice of punk / oi! mayhem you'll hear this side of 1977.
Notable moments of poignancy came when the band covered In A Big Country and dedicated it to the late Stuart Adamson, and when Peters returned for the encore, acoustic guitar in hand, to sing A New South Wales with the first verse and chorus in Welsh (well, it was St David's Day).
As the last chords of yet another bombastic, rollicking tune rang out, all that was left to do was to contemplate on how few "modern" bands do proper crowd-pleasing (rather than self-pleasing) shows like this and treat their fans with such respect (there was a 15-minute mid-gig interval to sign autographs!). I guess they just don't make rock stars like they used to...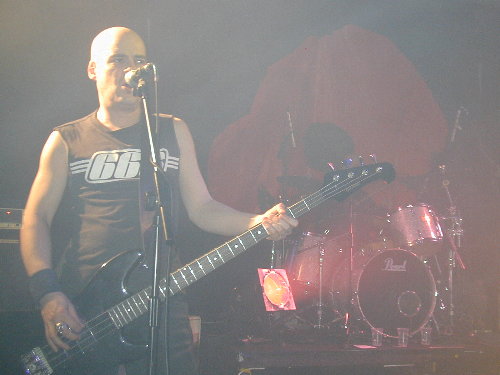 Setlists beider Gigs im Vergleich:
London - Scala 01.03.2004 - sold out

Steve Grantley on drums




Set 1




coming home

unsafe building

in the beauty of my surroundings

absolute reality

right back where I started from

knife edge

rain in the summertime

the stand

the rock`n`roll




Set 2




declaration / marching on

where were you hiding...

in a big country

the drunk & the disorderly

68 guns

close

rescue me

45 rpm

spirit of 76 incl. walk forever by my side




a new south wales - Mike solo

bells of rhymney - Mike solo




blaze of glory

get down, get with it

London - Scala 02.03.2004

Dave Baynton-Power on drums




Set 1




coming home

one step closer to home

the deceiver

the stand

coming home

unsafe building

absolute reality

right back where I started from

knife edge

in the beauty of my surroundings

rain in the summertime

the rock`n`roll




Set 2




the unexplained

declaration / marching on

where were you hiding...

the drunk & the disorderly

68 guns

close

rescue me

45 rpm

spirit of 76




tomorrow (James Cover)

blaze of glory

get down, get with it


Massig Bilder von beiden Gigs und von diversen UK-Gigs gibt´s auf
Andy´s Seite
Hier noch eine Kritik vom zweiten Gig
Quelle:
VirtualFestivals
, Text: Roy Mussel

Heard of The PoppyFields lately? Well you surely know that the single '45RPM' was really by The Alarm. Rejuvinated and fired up by success they rock The Scala with style and aplomb.
The Alarm - Still Here, Still Rockin'
The Alarm have been 'Marching On' for 25 years - not bad for a band of who most people can only say "didn't they do that 68 Guns song?", and who started out in life with the instantly dismassable name of The Toilets! But there's still life in this old punk-power-pop-pup, as Mike Peters, vocalist and sole remaining original band member, has recently proved. Inventing a 'new band' called The PoppyFields - complete with a video starring a quartet of fresh-faced unknowns (AKA The Wayriders) - resulted in more airplay than The Alarm have achieved in a decade...and the incidental trifle of a Top 30 hit for the single '45 RPM'.
Despite (or perhaps because of?) the loss of three quarters of the original line-up and the passing of a quarter of a century since they first started to make music born out of a Welsh dream-almost-become-reality of becoming world-beating punk-rockers, The Alarm remain admirably energetic. Mike has obviously taken a leaf from his 'other' band, Dead Men Walking (a supergroup starring Billy Duffy, Glen Matlock and Kirk Brandon amongst others), and has rejuvenated The Alarm with the bringing together of some very experienced new bandmates.
Affable drummer Dave Baynton-Power has been with James since 1989 while guitarist James Stevenson has played with Chelsea, Generation X and Gene Loves Jezebel. Completing this stellar lineup is the legendary bass player Craig Adams, now shaven headed and far removed from his days spent powering the subsonics of The Sisters Of Mercy, The Mission and The Cult.
Despite some guitar gremlins, the show is a triumph. Although they're playing to the converted and devoted, the band do not rest on their collective laurels, avoiding the ever present danger of reliance upon a couple of classics to hold the set together. Instead they engage with each other and the crowd and manage to pull their potentially disparate constituents together remarkably well. Mike Peters is in stonkingly good voice, proving himself yet again as the consumate performer...although the good-natured crowd do their utmost to drown him out. New tracks mix comfortably with early standards such as '68 Guns', 'The Stand' and 'Rain in the Summertime'. They have the stamina and breadth of material to provide their own support, and during the break Peters invites the crowd to track them down at the bar so that anyone who wants a chat over a pint can do so. All too soon it seems, the band are going out in a 'Blaze of Glory' - a fate that appears to be one that, for The Alarm at least, is a long way off just yet.